Skip to Content
Blue Star Memorial Program
The Blue Star Memorial Program honors men and women who serve or have served in the United States Armed Forces. This program began in 1944 as a living memorial to World War II veterans.
In 2012, Desert Pointe Garden Club and ABM joined forces to have a Blue Star Memorial installed and dedicated on ABM property. ABM designed and built the planter and maintains the grounds, while the plants are maintained by the Garden Club. We are honored to have been selected as a host for this distinguished memorial site.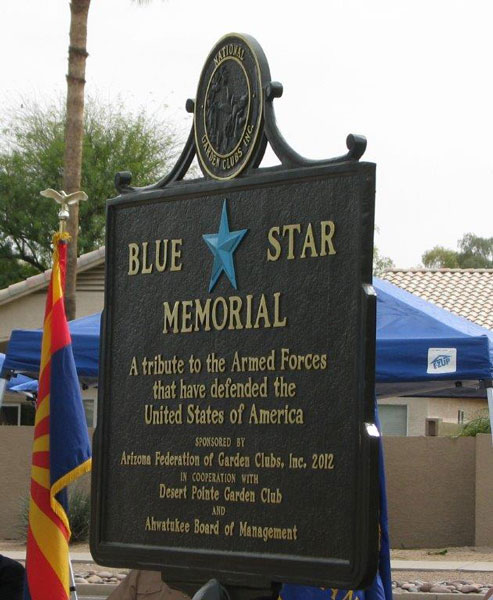 Ordering Information
Ahwatukee's Blue Star Memorial is surrounded by engraved pavers to honor or memorialize a veteran. If you would like to purchase a personalized paver, please complete the order form below.
​Each paver costs $50 for 3 lines of text or $60 to include a military logo.
We place orders twice yearly to be installed by Memorial Day and by Veterans Day.
Orders received by April 1: installed by Memorial Day
Orders received by October 1: installed by Veterans Day
Forms and payments may be dropped off at the ABM office or mailed to Marlene Tiede (see form for address). Checks should be made out to Desert Pointe Garden Club. Any questions? Please contact Anne Marie at 480-893-3502 ex. 1.